A group of customers have filed a lawsuit against fast-food chain Burger King, alleging the company's publicity photos make the food appear larger than it was actually served.
A South Florida attorney representing the plaintiffs, Anthony Russo, has filed a lawsuit against the global fast-food chain for misleading customers by misrepresenting the size of its burgers in images by making them appear larger .
'35% bigger' burgers in photos
In the lawsuit, Russo says Burger King's publicity photos show "oversized meat patties and ingredients spilling onto the bun to make the burgers appear about 35% larger and have more than double the meat than the real burger. "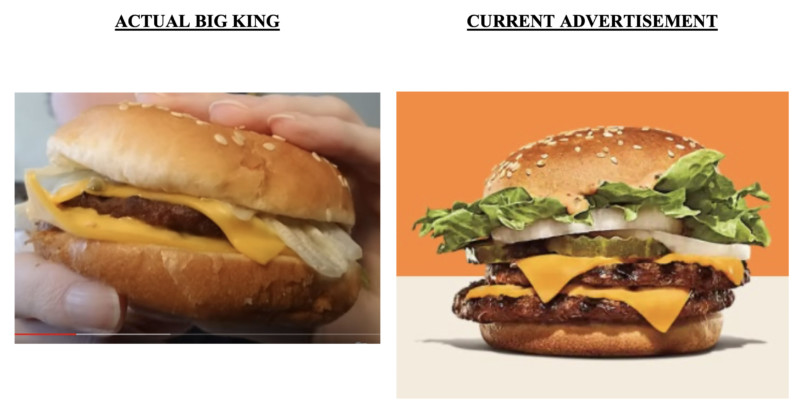 The lawsuit even provides social media posts from other disgruntled customers.
The lawsuit claims the fast-food chain began "significantly overstating the size of its burgers" in images around September 2017. Prior to that, the lawsuit said, Burger King was "more fairly" advertising its food products.
He specifically mentions promotional images and advertisements of the restaurant's beloved Whopper burger as well as the Impossible Burger, Big King, Bacon Double Cheeseburger and others.
Company and customer photos
To support their claims, the plaintiffs offer photographs purportedly showing differences between burgers purchased at a Burger King restaurant and those depicted on the company's website and on its restaurant menus.
The lawsuit also points to social media posts and YouTube videos of flood bloggers complaining about the difference between advertised Burger King products and the food they received.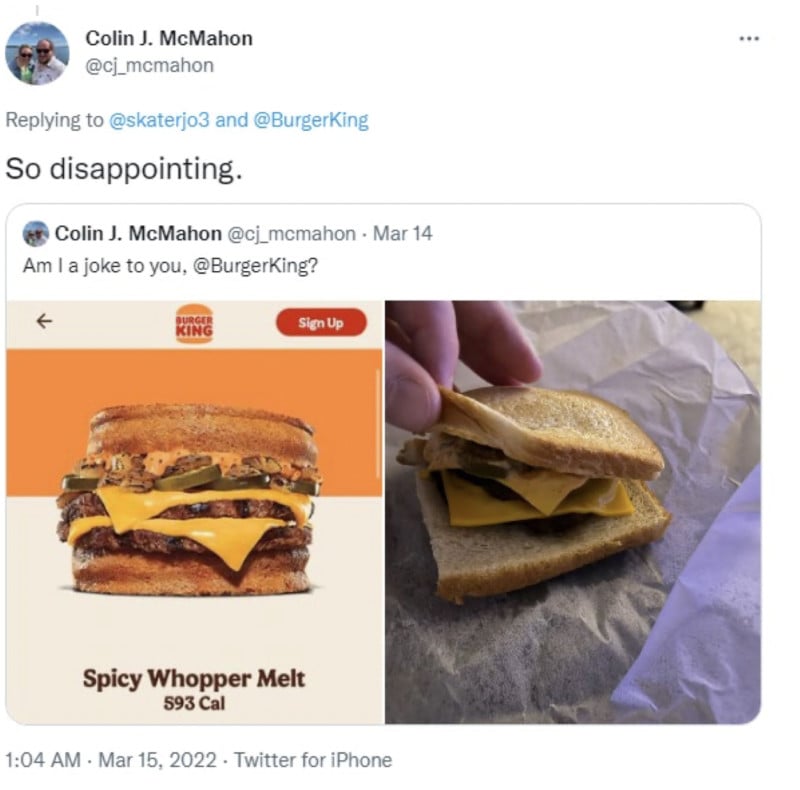 "Deception" in times of inflation
While it's common for the food industry to make its products more appealing in marketing images, the lawsuit says the issue takes on more significance given the highest inflation in 40 years and pressures on consumer budgets.
The lawsuit says "Burger King's actions are of particular concern now that inflation, food and meat prices are very high, and many consumers, especially low-income consumers, are struggling financially."
This isn't the first time Burger King has been accused of inflating food in its ads. The UK's Advertising Authority cited the company 12 years ago for burgers that were "significantly less" in height and thickness than advertised.
The plaintiffs are seeking monetary damages for all Burger King customers allegedly "deceived" by the burgers marketed in the fast food giant's advertising.
They're also calling on Burger King to stop selling "overpriced menu items" or change its ads to be more accurate.
---
Picture credits: All photos via Coleman's complaint against Burger King