In 2011, as popular revolts reverberated through the Middle East, a monarch in the middle of it all made banking decisions. That year, as neighboring Egypt and Syria withered in the face of momentous civil protests, King Abdullah II of Jordan opened two new accounts with Credit Suisse, the Swiss bank that had quietly served the region's wealthy for decades.
Abdullah, one of the world's oldest current monarchs, had chosen a banker who shared his approach to secrecy, particularly around his personal wealth. Over the next five years, the king was the beneficial owner of at least six accounts with Credit Suisse, while his wife, Queen Rania, had another.
According to a huge amount of data leaked from the bank which names the two royals as account holders, one account would later be worth a remarkable 230 million Swiss francs (£180 million).
At home, King Abdullah had had a tough run. The uprisings, known as the Arab Spring, led to the overthrow of leaders in Tunisia, Egypt, Libya and Yemen, and a brutal and protracted war that erupted in Syria. Jordan, one of the most effective security states in the region, has been able to stave off the threat of nascent opposition, suppressing dissent and promising better days.
But in the decade since, a struggling economy, persistent levels of poverty, high unemployment, welfare cuts and seemingly pervasive austerity measures have continued to fuel resentment across the country. A particular gripe was the juxtaposition between the apparent wealth of the king and the constant work endured by most citizens just to get by. While the IMF was agreeing to bail out Jordan, on the condition that his people tighten their belts, the king was transferring huge sums between his Swiss accounts.
The Credit Suisse data contains details of 18,000 bank accounts leaked to the Süddeutsche Zeitung by a whistleblower who said Swiss bank secrecy laws were "immoral". The data was shared with the Guardian and 47 other media outlets as part of a global investigation called Swiss Secrets.
Lawyers for King Abdullah and Queen Rania said there was no wrongdoing on the part of the clients and reported on the source of their funds, which they said complied with tax laws applies. King Abdullah is not required to pay taxes in Jordan, where the monarch is exempt by law. His lawyers said much of the Swiss bank's funds came from the inheritance of his father, King Hussein, and that there were no inheritance tax laws in Jordan.
The revelations come at an uncomfortable time for King Abdullah and his family, surfacing six months after the monarch figured prominently in the leak of the largest offshore data mine on record, the Pandora Documents, which revealed that he had acquired a $100 million luxury property portfolio stretching from Malibu in California to Belgravia in central London.
Details of other offshore accounts will add to allegations that Jordan's 22-year-old king lives a life disconnected from the demanding realities faced by most of his citizens, who live by a different set of rules.
After the Pandora Diaries were published, Jordanian intelligence moved quickly to block online access to stories detailing revelations about the king's wealth. The handful of journalists who defied the ban were questioned. Some were reminded of "patriotic duties" to Jordan. Others felt intimidated into the silence. The Jordanian publication that published the revelations received a call from intelligence services asking that the story be taken down.
The king's lawyers said accusations of a media crackdown in Jordan after the Pandora diaries were published had been "denied". They refused to elaborate.
Two years before Pandora's revelations, Jordanian security forces arrived at Moayyad al-Majali's home detaining the lawyer and then charging him with one of the kingdom's most serious crimes. His alleged offense was to slander King Abdullah, simply by asking how much land the king owned.
Holding an offshore bank account is not illegal and there is no evidence that King Abdullah broke any laws by structuring wealth offshore. There is also no suggestion of wrongdoing or breaches of due diligence on the part of Credit Suisse. However, the revelations will raise new questions about the source of the fortune at Abdullah's disposal in a country supported by billions of dollars in foreign aid each year. They will also spark questions about whether the king may have sought refuge for family wealth as his country's woes worsened.
On the home front, in recent years protests over deteriorating conditions have led to continued political chaos, with a series of prime ministers removed from office and governments remaining weak and dependent on foreign support. Even some Jordanian tribes, who offered fundamental support to Abdullah, and from which most of the country's establishment figures hail, have shown their frustration with a state that struggles to serve its own people.
In March last year, the king's hold on the country was briefly threatened when his half-brother Prince Hamzah, whom he had ousted as heir 17 years earlier, was arrested and two aides convicted of sedition after the apparent early stages of a plot against the throne were uncovered.
Hamzah supporters described the events as a "mutiny" with popular support. However, Jordanian intelligence and some senior officials believe it instead stems from a belated push by Trump officials and Saudi Crown Prince Mohammed bin Salman to install a monarch who would have endorsed the failed attempt to etch peace between Israel and the Palestinians, labeled "the deal of the century".
Through his lawyers, King Abdullah said only one of Credit Suisse's accounts remained open. They said they included personal investment companies (PICs) set up as trust fund vehicles to provide for the royal couple's children. They said one of the accounts held proceeds from the sale of a "large jumbo jet", while another smaller aircraft was purchased. The King is known to use at least two private jets.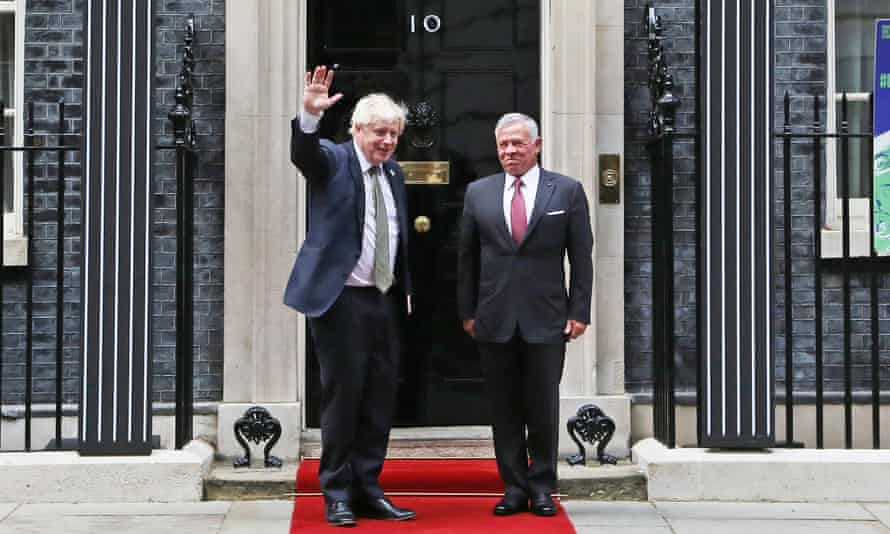 His lawyers said "a significant percentage" of his personal fortune was used to fund personal royal initiatives aimed at targeting the social and economic needs of Jordanian citizens, as well as the restoration of important mosques. They declined to say what percentage.
In Jordan's capital, Amman, anger against the king and his government has been unusually strident during recent protests over unemployment and a stagnant economy. At some rallies, demonstrators hit effigies of Abdullah with shoes – seen as a gross indignity in the Arab world. However, the Hashemite dynasty led by Abdallah does not seem seriously threatened, for the moment.
Daoud Kuttab, the managing director of the Amman-based Community Media Network, predicted the revelations would anger some Jordanians, especially unemployed youth. "The king and the government will face protests and demonstrations but will most likely succeed because they have previous revelations – but it will be difficult."
Additional reporting by David Pegg. Credit Suisse Response to Swiss Secrets Disclosures available here.